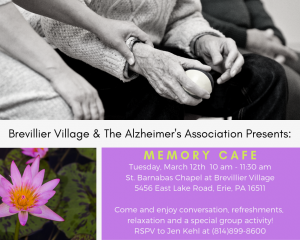 This Month's Theme: "Happy Memories"
Free parking in front of Barnabas Court. Handicap accessible parking is available.
Hosted by The Alzheimer's Association and Brevillier Village. RSVP to Jen Kehl at 899-8600.
What is a Memory Café?
• A memory café is a safe, comfortable gathering place for people with dementia and their care partners.
• Come an enjoy conversation, refreshments, relaxation and a special activity you can do together.
• Our Memory Café is free and all are welcome!